X
Page last edited 1,355 days ago
From Q-Games Wiki
Jump to navigation
Jump to search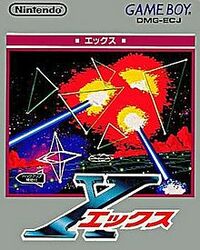 X (Japanese: エックス), formally known as Lunar Chase is a 3D space combat game by Argonaut Games and Nintendo, directed by Dylan Cuthbert.
The game was released on May 29, 1992 only in Japan, and was inspired by the prototype SNES Glider, as well as the earlier Starglider Series. It was planned for release outside of Japan as well, but cancelled.
X began as an experiment for 3D graphics (using polygons/wireframes) on the Game Boy, which Argonaut Games would later show to Nintendo. The game involves the VIXIV; a fictional space tank and its pilot, who is guided by the Commander. The player must complete a series of missions revolving around the Power Crystals; an energy source, and a malevolent extraterrestrial race.
Years later in 2010, Q-Games and Nintendo released 3D Space Tank for DSiWare.