Starglider 2
Page last edited 1,090 days ago
From Q-Games Wiki
Jump to navigation
Jump to search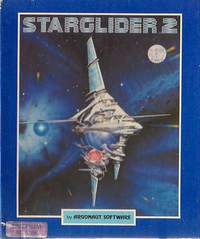 Starglider 2 is the second game in the Starglider Series, following Starglider. It was developed by Argonaut Software and published by Rainbird, for Amiga, Atari ST, MS-DOS, Macintosh, ZX Spectrum.
Like the original game, it is a wireframe space combat-based game. The player must destroy a space station using a neutron bomb, and complete missions such as collecting parts for the bomb or trading goods.
Argonaut Dual Loading System is featured for the Atari ST and Amiga versions.