Q-Games Wiki Home
Page last edited 983 days ago
From Q-Games Wiki
Jump to navigation
Jump to search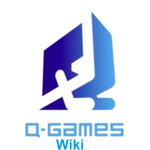 (Note: No leaked content is allowed here)
Welcome to Q-Games Wiki, the unofficial wiki about the video game company founded by Dylan Cuthbert with links to Nintendo and Sony, and the universes in its games. We also cover Argonaut Software.
This wiki uses Commonwealth English. We use the European video game names.
Files may be copyrighted (most often to Q-Games, Argonaut Software, Nintendo, Sony) in which case fair use applies. This message appears on the front page to save space so that it doesn't have to be repeated for every upload.